How Dental Implants Work - Friendswood, TX
Rebuilding Teeth from the Roots Up
Thanks to their many benefits, dental implants have fast become one of the most popular ways to replace missing teeth. In fact, according to the American Dental Association, more than 5 million implants are placed each year in the United States. Despite their growing popularity, however, many patients are not familiar with exactly how dental implants in Friendswood work. Do you want to know more about the implant treatment process? Let's take a look at what you can expect on your journey to a complete smile.
Initial Dental Implant Consultation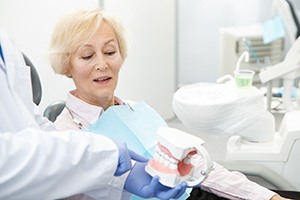 Most individuals with missing teeth make good candidates for dental implants. However, it is still important to schedule an initial consultation with your dentist in order to be properly evaluated. During this first visit at our office, Dr. Sierra will carefully examine your teeth and assess your overall dental health. X-rays will likely be taken of your teeth to make sure there are no hidden issues, like infection or bone loss. Dr. Sierra will also ask about your medical and lifestyle history to identify any risk factors that could interfere with implant treatment. Based on the evaluation results, you may need to undergo preliminary treatment, such as a bone graft or sinus lift, before getting dental implants.
Dental Implant Surgery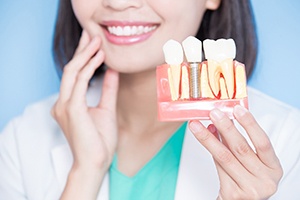 Placing dental implants in Friendswood involves a minor surgery, during which local anesthesia or dental sedation will be utilized to ensure your complete comfort. Dr. Sierra will first make tiny incisions in your gums where your teeth are missing. He will then drill very small holes into the jawbone and insert titanium implant posts. Once the implants are in the correct position, your gum tissue will be closed with a couple of simple stiches. After the dental implant surgery is complete, you will be given several months to let the healing process take place.
Dental Implant Osseointegration & Abutment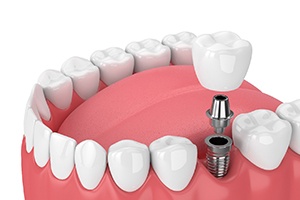 The next step in the implant journey is osseointegration, a natural process in which biocompatible titanium implants gradually fuse with the surrounding jawbone. By integrating with the bone, dental implants act like natural tooth roots, stimulating bone growth and providing a stable base for a crown, bridge or denture.
Once your jaw has healed, it will be time to attach abutments to the implant posts. Abutments are small pieces that connect a dental implant to an artificial tooth or dental prosthetic. During a second minor surgery, Dr. Sierra will open your gums to expose the implant posts and place the abutments on top of them. Once in place, your gum tissue will heal around the abutments over the next couple of weeks.
Placement of Dental Implant Restorations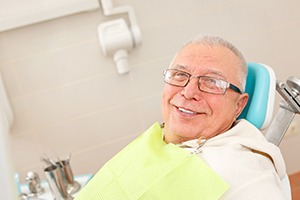 Next comes the most exciting step – placing your restoration! After you gum tissue has healed, we will welcome you back to our office in Friendswood once more so Dr. Sierra can securely fasten your custom crown, bridge or denture to your implants. He will then check to make sure your bite aligns and that you feel comfortable overall with your new smile. Once this step is complete, you will be able to immediately start showing off your full set of teeth to your friends and family!