Dental Implants — Friendswood, TX
Permanently Rebuild Your Confident Smile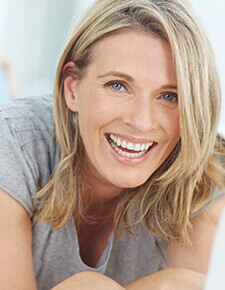 You have lots of options when replacing your missing teeth. However, traditional solutions like dentures and dental bridges only restore the parts of a missing tooth that are visible when you smile. While replacing teeth above the gumline is essential, missing the roots of those teeth can lead to a number of oral health concerns, including further tooth loss and jawbone deterioration. Thankfully, dental implants in Friendswood are designed to replace the entire structure of a missing tooth! We can permanently rebuild your confident smile with this state-of-the-art treatment. Contact us today to schedule your consultation to discuss dental implants in Friendswood, TX today.
Why Choose Friendswood Dental Group For Dental Implants?
Entire Procedure Completed Under One Roof
Dr. Sierra Is a Highly Trained & Accomplished Implant Dentist
State-of-the-Art Technology for the Best Results
What Are Dental Implants?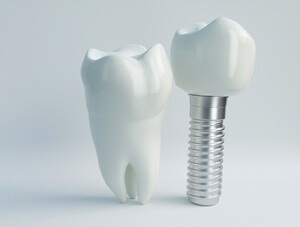 A dental implant is actually the name of a small, cylindrical post that's designed to mimic the roots of a missing tooth. They're typically made out of titanium, which is a very strong and biocompatible material. After one is inserted into the jawbone, it naturally fuses with the surrounding tissue to become part of the jaw. Then, a small connector piece called an abutment is placed, which in turn fastens your final restoration to the implant post. This could be a custom-made crown, bridge, or denture depending on how many teeth you're missing. When you rebuild your pearly whites from the roots up like this, the end result is a smile that looks, feels, and functions just like natural.
The 4 Step Dental Implant Process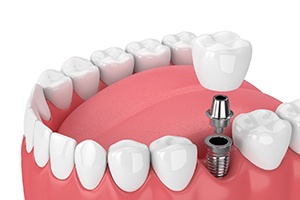 Thanks to their many benefits, dental implants have fast become one of the most popular ways to replace missing teeth. In fact, according to the American Dental Association, more than 5 million implants are placed each year in the United States. Despite their growing popularity, however, many patients are not familiar with exactly how dental implants in Friendswood work. Do you want to know more about the implant treatment process? Let's take a look at what you can expect on your journey to a complete smile.
Initial Dental Implant Consultation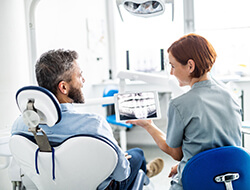 Most individuals with missing teeth make good candidates for dental implants. However, it is still important to schedule an initial consultation with your dentist in order to be properly evaluated. During this first visit at our dental office, Dr. Sierra will carefully examine your teeth and assess your overall dental health. X-rays will likely be taken of your teeth to make sure there are no hidden issues, like infection or bone loss. Dr. Sierra will also ask about your medical and lifestyle history to identify any risk factors that could interfere with implant treatment. Based on the evaluation results, you may need to undergo preliminary treatment, such as a bone graft or sinus lift, before getting dental implants.
Dental Implant Surgery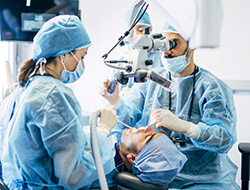 Dr. Sierra has taken countless hours of advanced training in dental implants to become a master of rebuilding smiles. His expertise combined with state-of-the-art surgical equipment means that you can have your entire dental implant treatment done under one roof. Not only will this save you time and money, but you'll get to work with a dentist and team that you already know and trust.
Placing dental implants in Friendswood involves a minor surgery, during which local anesthesia or dental sedation will be utilized to ensure your complete comfort. Dr. Sierra will first make tiny incisions in your gums where your teeth are missing. He will then drill very small holes into the jawbone and insert titanium implant posts. Once the implants are in the correct position, your gum tissue will be closed with a couple of simple stiches. After the dental implant surgery is complete, you will be given several months to let the healing process take place.
Dental Implant Osseointegration & Abutment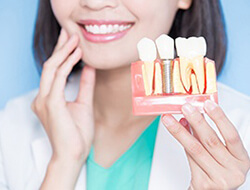 The next step in the implant journey is osseointegration, a natural process in which biocompatible titanium implants gradually fuse with the surrounding jawbone. By integrating with the bone, dental implants act like natural tooth roots, stimulating bone growth and providing a stable base for a crown, bridge or denture.
Once your jaw has healed, it will be time to attach abutments to the implant posts. Abutments are small pieces that connect a dental implant to an artificial tooth or dental prosthetic. During a second minor surgery, Dr. Sierra will open your gums to expose the implant posts and place the abutments on top of them. Once in place, your gum tissue will heal around the abutments over the next couple of weeks.
Delivery of Dental Implant Restorations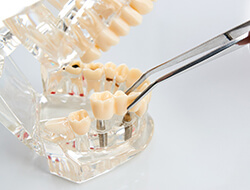 Next comes the most exciting step – placing your restoration! After you gum tissue has healed, we will welcome you back to our dental office in Friendswood once more so Dr. Sierra can securely fasten your custom crown, bridge or denture to your implants. He will then check to make sure your bite aligns and that you feel comfortable overall with your new smile. Once this step is complete, you will be able to immediately start showing off your full set of teeth to your friends and family!
Benefits of Dental Implants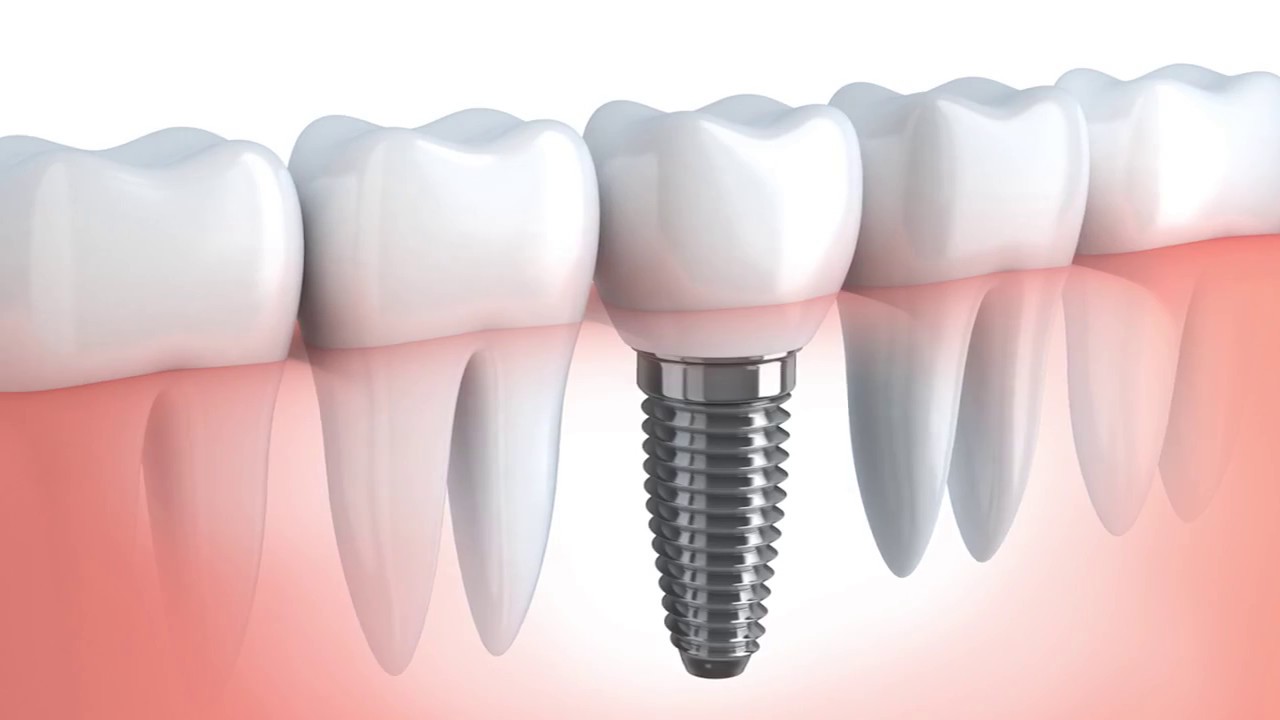 Dr. Sierra could use a fixed bridge or partial denture to fill in the gaps in your smile. So, why does he prefer dental implants? Because thanks to their unique placement, dental implants provide a wide range of important benefits that you simply can't get with other options! You will once again have a complete smile and you'll be able to speak with confidence and eat a variety of foods in order to maintain a nutritious diet. All the while, dental implants remain firmly in place and have no impact on the adjacent teeth.
In addition, because dental implants are surgically positioned in your jawbone, they help support your facial structure. When you are missing a tooth, there is also a missing root. As a result, your jawbone won't receive the stimulation it needs to build healthy new bone tissue. Subtle changes in the shape of your jaw could make your face look less full and older.
Who Dental Implants Can Help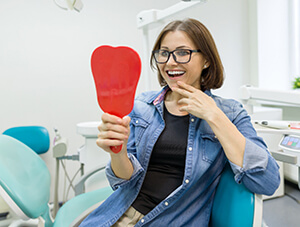 If you are missing one, several, or all your teeth, dental implants can help! This versatile treatment can address all manner of tooth loss. However, not everyone is a good candidate initially. During your consultation, Dr. Sierra will evaluate your oral health and jawbone to see if dental implants are right for you. If there are any problems, he'll work with you to address them with preliminary treatments so you can be eligible for dental implants.
Who Is a Good Candidate for Dental Implants?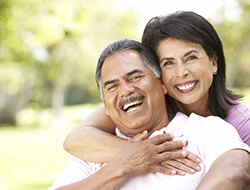 Most people are candidates for dental implants, but there are certain qualifications. First, you must be committed to maintaining excellent oral health with daily brushing and flossing, as well as regular visits to Dr. Sierra for dental checkups. Good general health is also essential because the procedure does require minor oral surgery.
Dental implants have a great rate of success—98 percent. Before recommending implants, Dr. Sierra will conduct a thorough oral examination to ensure that your gums and underlying bone structure are strong enough to support dental implants. Some patients do require soft tissue or bone graft surgery to ensure the success of their implants.
Missing 1 Tooth
Dental crowns can be attached to a single dental implant post to replace one lost tooth. This implant supported dental crown restoration will closely mimic the natural appearance, structure, and function of a natural tooth.
Missing Multiple Teeth
Like traditional bridges, implant bridges can close gaps in the smile left by consecutive tooth loss. Rather than connecting to healthy teeth on either side of a gap in your smile, an implant supported fixed bridge is attached to two dental implants, one on each end.
Missing All Teeth
Patients missing numerous nonconsecutive teeth and those who need to replace a full arch of teeth will likely need an implant denture. Implant partial dentures are similar to traditional partials. Crafted from a series of teeth set into a gum-colored base, a strategically placed set of implant posts are used to support the partial which fills the gaps in patients' smiles flawlessly while preserving healthy teeth. For those whose tooth loss is more advanced, a full denture may be the right option. In some cases, we're able to modify a patient's existing dentures to be fitted over dental implants. Regardless, a full arch of replacement teeth is set into a gum-colored base which is then attached to dental implants. Both partial and full implant dentures are available in fixed or removable options.
Many patients who have been unable to replace missing teeth with dental implants due to lack of jawbone density, All-on-4 offers an effective option. Rather than placing a number of dental implants across the entire expanse of the jawbone, All-on-4 relies on the naturally denser portion of the jaw at the front to support the entire restoration. Typically using just 4 implants as the name suggests, two implant posts are positioned to anchor the front of the arch, and two posts are angled toward the back to support the back part of the restoration.
Understanding the Cost of Dental Implants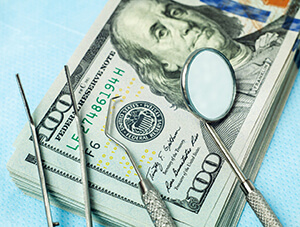 How much your dental implant treatment will cost depends on several factors. This includes everything from your current oral health to how many implants you're missing to what type of restoration you'll need. Fortunately, we can consider all these factors and more during your initial consultation to provide a custom estimate before you choose to move forward with your treatment. Plus, we'll review your dental insurance coverage and go over your financing options to help you discover just how affordable your treatment can be.
Overall, you should know that dental implants are widely considered an investment that is well-worth the price. Dental implants have over a 95% success rate and will likely last you a lifetime. Plus, as the only tooth replacement option to restore the roots of missing teeth, dental implants can easily become the most cost-effective tooth replacement in the long-run. Read on as we cover some of the most important information about the cost of dental implant sin Friendswood.
Preliminary Treatments & Dental Implant Surgery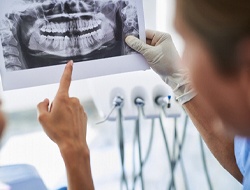 One of the most basic requirements a patient needs in order to get dental implants is a strong jawbone that is able to reliably support the posts. If a patient's jaw is too thin or brittle to do this as is, they will likely need to undergo some type of bone grafting procedure to help build it up. Dr. Sierra can take care of this right here at Friendswood Dental Group, but this essential step will add to the overall cost. This goes for any preliminary treatments you need to become a good candidate for dental implants, including tooth extractions or gum disease therapy.
Since the jawbone is much thinner towards the front of the mouth compared to the back, the location of each dental implant can drastically affect how the placement procedure will actually work. More skill and finesse are needed when using implants to replace the front teeth, and this may also add to the overall cost because aesthetics become such an important factor.
The Parts of Your Dental Implant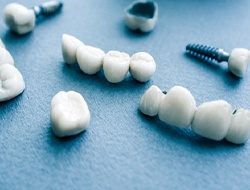 Next, we'll consider key details about the dental implant or implants themselves, such as:
Number of dental implants: A patient who is replacing just one tooth with an implant will spend less than someone who is getting numerous implants to support a full denture. The more implants, the more complicated the placement procedure tends to be. Fortunately, Dr. Sierra is able to work with patients to figure out how they can get the best results with the fewest implants.
Type of restoration: Dental implants can support crowns, bridges, partials, and full dentures, each of which are custom-made from the highest quality materials and come at their own price points.
Brand of dental implant: While there are numerous different brands of dental implants, we only use those from trusted companies with reliable reputations to ensure our patients get the high-quality results they deserve.
How Dental Implants Can Save You Money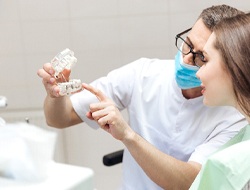 While dental implants do tend to cost more upfront than traditional options like bridges and dentures, they actually are the most cost-effective tooth replacement when you look at the long-term results. On top of the added function and aesthetics implants provide, they can also be expected to last a lifetime. In most cases, bridges and dentures need to be replaced every 7-10 years. This means dental implants can potentially save you thousands of dollars in replacements alone over time!
Does My Dental Insurance Cover Dental Implants?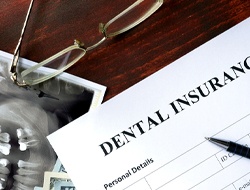 Many dental insurance policies do not yet offer full coverage for dental implants. However, due to their growing popularity, more and more are starting to cover them. Regardless, the majority of dental insurance companies will offer some form of coverage for different parts of dental implant treatment, such as the preliminary treatments, sedation during the placement surgery, and the final restoration.
Making Dental Implants Affordable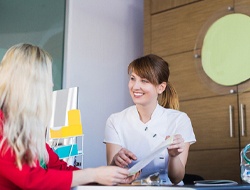 Don't have dental insurance? Dissatisfied with your insurance coverage? We can still help you make dental implants affordable with flexible financing options. We worth with several third-party financing companies, including CareCredit, Lending Club, and Compassionate Finance. Financing will allow you to break up the cost of your dental implants into small, more manageable monthly payments. Our Treatment Coordinator, Tracie, can help you go over your various plans and figure out the best way to help you save on your procedure so you can come to see us with peace of mind.
Dental Implant Post-Op Instructions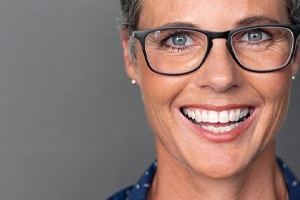 At Friendswood Dental Group, you don't have to worry about visiting multiple providers for your dental implant treatment. Dr. Sierra can complete the entire procedure from start to finish in the comfort of our own office. Following your oral surgery, our team will provide you with post-op instructions to help you make a speedy and smooth sailing recovery. If you'd like to know what to expect while you heal, continue reading or give our office a call today!
What to Do Directly After Dental Implant Surgery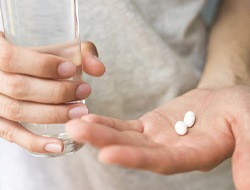 After dental implant placement, your main priority is leaving the blood clot on your surgical site completely untouched. It's incredibly important to allow the gums to heal properly around the implant. That said, you should avoid:
Common Side-Effects When Recovering from Dental Implant Placement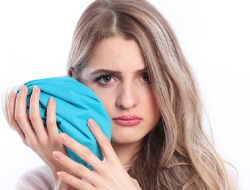 It can be hard to tell which symptoms are normal and which ones you should be concerned about, especially if you've never had oral surgery before. While you're recovering, any discomfort you experience should gradually fade away over time. If that's ever not the case, don't hesitate to contact our office for assistance.
Here are some common side effects to expect in the first few days following your procedure:
Your Diet After Dental Implant Surgery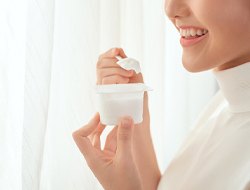 You should stick to a soft-food diet for the first few days following dental implant surgery. Before your procedure, make sure you stock up on these items:
Most patients can return to their normal diet as soon as they feel up for it. However, it's strongly recommended that you avoid chewing crunchy, tough, and hard foods directly on the implant site.
Post-Op Health & Oral Hygiene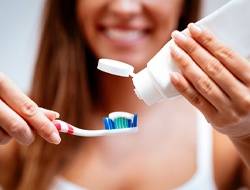 During recovery, keeping your mouth clean is incredibly important to ensure your implants successfully fuse with the jawbone via osseointegration. You can brush your teeth as you normally would the day after surgery – just make sure you're extremely careful around the surgical site. Don't forget to rinse your mouth two to three times each day with salt water, ideally after eating. Avoid rinsing with mouthwashes that contain alcohol, such as Scope or Listerine.
What to Do After Your New Teeth Are Attached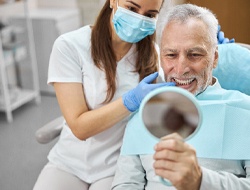 Once you're all healed up, you can move on to the final step of your dental implant journey – the attachment of your prosthetic! After your new crown, bridge, or denture is placed, you might experience mild sensitivity in the gum tissue. However, you can easily manage it with pain medication. Since there are no significant side effects following this step, you can make the most out of your beautiful new smile that same day!
Dental Implant Technology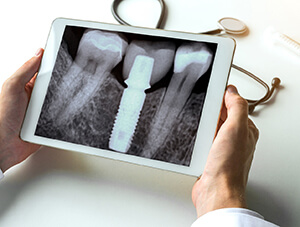 At Friendswood Dental Group, we're proud to use some of the latest dental technology. This equipment helps us plan out precise and predictable treatments for the best results. When it comes to dental implant technology, we utilize 3D cone beam guided dental implant placement. Read on to learn more about this exciting piece of technology!
3-D Cone Beam Guided Dental Implant Surgery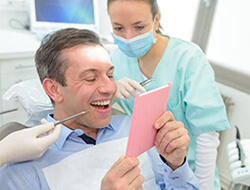 Many dentists refer patients to oral surgeons for the placement of one or more dental implants. At Friendswood Dental Group, our dentists have advanced training in 3D Cone Beam surgical guided implant placement. That means patients are able to get the same safe, effective dental implant placement in the comfort of the dental office they are already familiar with from the team they trust. 3D guided dental implants are just one more way we use state-of-the-art dentistry technologies to make our patients' dental care more comfortable and convenient.
Dental Implant Frequently Asked Questions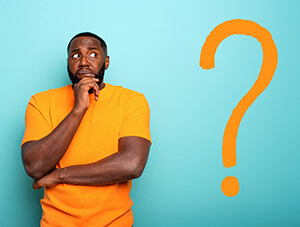 Are you ready to permanently rebuild your comfortable, confident smile with dental implants? It's likely you have some questions you need answering first. Before you commit to a treatment plan, we'll walk you through it step-by-step during your consultation so you'll know exactly what to expect. In the meantime, we invite you to look over the following dental implant FAQs to learn more about them! As always, if you have more questions, don't hesitate to contact us!
How Long Do Dental Implants Take?
Dental implants are completed in two phases: the initial implantation and final restoration. A recovery period of four to six months occurs in between each phase. If you need a bone augmentation procedure before you get dental implants, that may add several months to the overall treatment time. Most treatments range from six months to one year.
Does Getting Dental Implants Hurt?
One big misconception about dental implants is that the procedure is painful -- but it's really not. With modern anesthesia, sedation, and the latest techniques, we can assure that you won't feel a thing throughout your dental implant procedures. What's more, once you receive your prosthetic teeth, you won't have to worry about dealing with painful oral sores due to a loose or ill-fitting replacement.
Are There Any Restrictions with Dental Implants?
No! Dental implants function just like your natural teeth, so you don't have to worry about limiting your diet. After you have had your dental implants restored, you can eat what you like, when you like, where you like.