Teeth Whitening — Friendswood, TX
Smile Brightly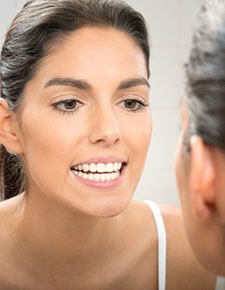 If you've visited the oral hygiene aisle at your local pharmacy or grocery store recently, you've likely seen the numerous products that promise to brighten your smile. In fact, most of the patients who visit our dental office to ask about teeth whitening have already tried one or more over the counter teeth whitening products with little to no success. Before you waste your time on these one size fits all teeth whitening solutions, we encourage you to call Friendswood Dental Group to schedule a cosmetic dentistry consultation. James T. Sierra, DDS, FAGD will create a personalized plan for teeth whitening in Friendswood, TX that directly addresses the underlying cause of dental discoloration, leaving you with a brilliant white smile.
Reasons Teeth Are Discolored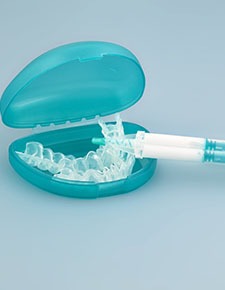 Understanding the cause of dental discoloration is the only way to create a teeth whitening plan that will predictably brighten your smile. During your cosmetic dentistry consultation, Dr. Sierra will help you discover the cause of tooth discoloration and create a plan to address the underlying concerns. Some of the reasons teeth become discolored include:
Consumption of dark colored foods and drinks
Smoking or using tobacco
Aging or wearing away of tooth enamel that reveals the yellow-colored dentin layer of teeth
Fluorosis stains are brighter white and they occur when too much fluoride is consumed in childhood
Tetracycline staining occurs when certain medications are taken during dental development
In-Office Teeth Whitening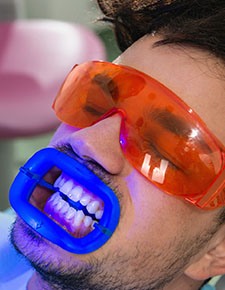 For patients who want to brighten their smiles quickly, in-office teeth whitening is the best option. The process is simple. We begin by isolating the teeth and protecting the lips and soft tissue. Then, we apply a coating of whitening gel to the surfaces of teeth. The whitener remains active for about 20 minutes at a time. Then, we remove the whitening gel to check the process, and we reapply as necessary. Most patients achieve their desired results in just about an hour of treatment.
At-Home Teeth Whitening
If you prefer to brighten your smile more gradually or suffer with sensitive teeth and gums, a professional take-home whitening plan may be preferable. Unlike store bought whitening kits that use low doses of whitener and one size fits all application methods, our professional take-home whitening kits are customized to meet the individual patient needs. We will provide you with a professional dosage of whitening gel and a custom crafted application tray. Then, you can apply the whitening gel for thirty minutes a day for two weeks.
Benefits of Professional Teeth Whitening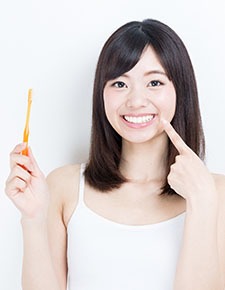 Some of the many benefits of professional teeth whitening compared with store bought whitening kits include:
Predictable results – store bought whiteners typically have little to no effect on tooth staining, but professional whitening brightens smiles up to ten shades
Safety – because your entire treatment process is planned and supervised by a skilled dentist, you know your smile will be safe from dental damage or decay
Comfort – many patients experience tooth sensitivity due to continually using over the counter whiteners with little to no effect, but with professional whitening, your dentist can provide treatment to counteract any tooth sensitivity or discomfort