Orthodontics — Friendswood, TX
Straigthten Your Smile Subtly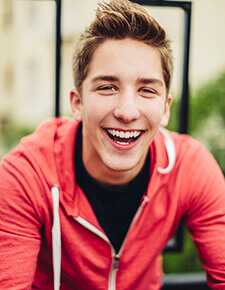 When most patients think of orthodontics, the image of an adolescent sporting a mouth full of metal brackets and wires springs to mind. Luckily, the Friendswood Dental Group team has more cosmetic orthodontic solutions for adults and teens who are more image conscious. We offer both Invisalign and Six Month Smiles alternative orthodontics from our Friendswood, TX cosmetic dentist. If you're interested in finding out more, contact our team to schedule an orthodontic consultation today. We'll examine your smile and help you find the right option for your goals.
Invisalign®
One of the most popular alternatives to traditional orthodontics, Invisalign uses a series of clear, plastic alignment trays to gently shift teeth into their ideal alignment over the course of about a year. One reason Invisalign is so popular is that it is effective in treating even more complex bite alignment issues like over, under, and crossbite unlike other more cosmetic solutions. Additionally, the removable aligners make it easy for patients to maintain their regular diet and oral hygiene routines throughout treatment.
Six Month Smiles
Six Month Smiles may be the perfect solution for patients who are interested in correcting just those teeth that make up the smile, sometimes referred to as the social six. Six Month Smiles is ideal for patients who have fully developed adult teeth (typically over the age of 21 or after the eruption of wisdom teeth) without severe alignment issues. The system uses a series of clear or tooth colored brackets and wires to reposition just those teeth that are most apparent within patients' smiles.