Dentures — Friendswood, TX
Complete Your Smile After Advanced Tooth Loss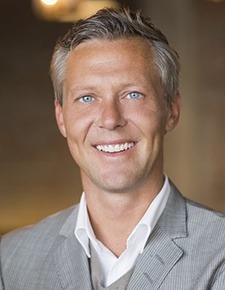 After tooth loss, replacement is essential. Partial and complete dentures allow for proper chewing and speaking, and they also improve your oral health by providing necessary support for the jaw bone. If you have lost several teeth or a full arch in the top or bottom jaw, full and partial dentures dentures in Friendswood, TX can come to the rescue.
Partial Dentures Fill In the Gaps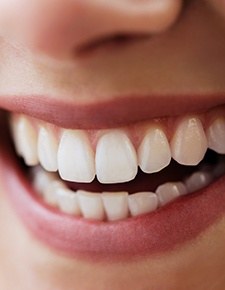 When you are dealing with several missing teeth, either all in a row or from different parts of the mouth, a partial denture provides a natural-looking, sturdy replacement. This method is used when one or more healthy natural teeth still remain in the gum line. Carefully crafted to match the size, shape, and color of the rest of your smile, the partial denture is attached to the natural teeth with metal clips and brackets.
Complete Dentures Replace a Whole Arch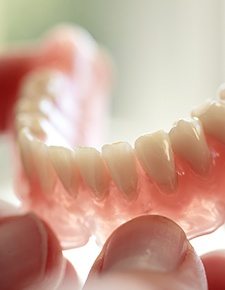 For people who have already lost all of their teeth, or who are on the brink of total tooth loss, a full (or complete) denture provides the support the jawbone needs. Prosthetic teeth attached to a base that looks just like your gum tissue, the complete dentures are retained in the mouth using natural suction. Small amounts of a denture adhesive can provide extra support as needed.
Dentures can also be held in place by traditional dental implants or with the All-on-4 method. Implant dentistry offers the best combination for tooth replacement.
Dental Implant Retained Dentures: A Comprehensive Solution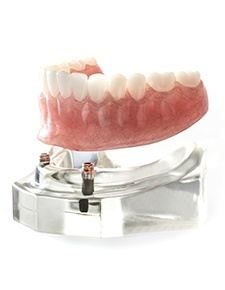 Dental implants provide a prosthetic root for the tooth replacement. The best option in replacement, they provide truly unsurpassed stability. The dental implant is a small titanium post that acts as a prosthetic root for the tooth that is affixed to the top. Titanium is a material that fuses with bone matter in a process we call osseointegration. It takes six to eight months to complete, but once it has finished, your dental implants are as secure as any other bone in your body.
A dental implant can be used to replace a single missing tooth, several lost teeth, or a whole row from the top or bottom of the mouth. For the latter, All-on-4 provides an effective solution.
As the name suggests, All-on-4 supports all the replacement teeth on just four dental implants. It relies on strategic placement for maximum support from the jawbone. By eliminating the need for bone augmentation procedures, All-on-4 gives patients who are not a candidate for traditional dental implants the chance to enjoy the security provided by implant dentistry.
The benefits of All-on-4 for patients who have lost all of their teeth are numerous. They include…
Teeth are loaded in the same day
Fewer implants means All-on-4 is less expensive than the traditional method
Eat, speak, and smile with renewed confidence
Eliminates the need for preparatory bone augmentation procedures
Denture FAQs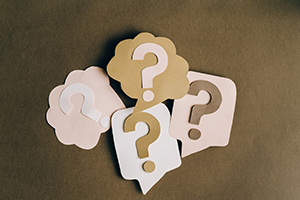 Dentures in Friendswood have been used for generations to treat tooth loss. Although they are tried and proven, it's normal to have a few apprehensions before you are ready to commit to them. Don't worry, we will address any concerns during your denture consultation. In the meantime, here are the answers to the most frequently asked questions.
Can I sleep with my dentures?
Initially, your dentist will instruct you to wear your new dentures for 24 hours, but then you will need to get in the habit of taking them out before going to bed. No one wants to be caught without their teeth, but your mouth is the perfect breeding ground for harmful bacteria that can affect your oral health and general wellness. Not to mention, it can weaken your denture over time, shortening its lifespan and leading to unpleasant odors. Your dentures will also restrict circulation to your gums, which can lead to sores, inflammation, and infections if the tissue isn't given time to rest. Removing your dentures before calling it a night allows your gums to receive the nutrients they need while also allowing you to clean them well to keep your mouth and body healthy. You will also keep ordos at bay and ensure you get the most from your investment.
Do dentures always cover the upper palate?
Dentures are available in many styles. If you aren't comfortable with an upper denture covering the palate, you have many options to choose from. Your denture dentist in Friendswood will review each method that may be right for you, like one with a horseshoe shape. It looks like a denture used for the lower arch or along with dental implants, so you won't have to worry about it covering the roof of your mouth or diminishing the way food tastes.
Do I use regular toothpaste to clean my dentures?
Your dentures will mimic your natural teeth, but they can't be cleaned the same way. Abrasive dental products can scratch the surfaces of your dentures, which can tarnish their appearance. In addition, food particles, plaque, and bacteria can get trapped in the crevasses, damaging your denture and causing odors. Instead, it is better to use a soft-bristled toothbrush and mild hand soap or dishwashing liquid. Besides brushing your dentures, soak them in an overnight soaking solution to kill any bacteria left behind by your toothbrush.
Can I eat steak with dentures?
It is entirely possible to eat steak with dentures; however, your dentist will advise you to have it in moderation. Foods that require a lot of chewing will put more wear and tear on your new teeth. It can also cause sores and inflammation of the gum tissue. If you can't resist a juicy steak, cut it into small pieces to make it easier to chew. Consider using a denture adhesive for added stability when enjoying your favorite meal. If you want to eliminate slipping and irritation for good, ask your dentist about adding the support of dental implants.
Let's Discuss Your Dentures Today!
If you are missing several or a whole row of teeth, don't put off tooth replacement for another day. Full, partial, and All-on-4 dentures provide the stability your jaw needs. Contact your dentist in Friendswood, TX to get started! You may also request your appointment conveniently online.