Implant Supported Dental Crowns & Bridges – Friendswood, TX
Replacing Teeth & Enhancing Smiles
Following the loss of one or a few missing teeth, it's important to take the time to replace your lost dental structures to maintain your overall oral health and function. Even a single missing tooth can lead to discomfort and lost dental function. At Friendswood Dental Group, we provide a variety of tooth replacement solutions to repair smiles no matter how many teeth are lost. Traditional tooth replacement options only repaired the parts of teeth visible above the gum line. Dental implant posts allow us to replace the roots of missing teeth, creating closer-to-natural results. If you've lost one tooth or a few consecutive missing teeth, an implant supported dental crown or fixed bridge may be your best option. To get started, call our dental office in Friendswood to schedule your tooth replacement consultation.
Dental Crowns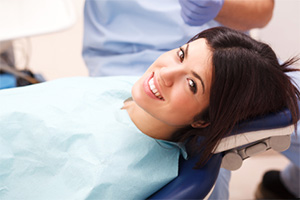 Dental crowns are versatile, custom crafted restorations that are used replace lost tooth structure, protect treated teeth, and even enhance the appearance of a patient's smile. Dental crowns can also be attached to a single dental implant post to replace one lost tooth. This implant supported dental crown restoration will closely mimic the natural appearance, structure, and function of a natural tooth.
Fixed Bridges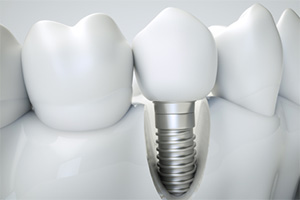 Fixed bridges were traditionally created by affixing dental crowns on either side of one or more replacement teeth to bridge a gap left by consecutive missing teeth. The crowns then affix to healthy remaining teeth to deliver a beautiful smile. Patients missing two or more teeth in a row may also consider a dental implant supported fixed bridge. Like traditional bridges, these prosthetics close gaps in the smile left by consecutive tooth loss. Rather than connecting to healthy teeth on either side of a gap in your smile, an implant supported fixed bridge is attached to two dental implants, one on each end.
The Dental Implant Restoration Process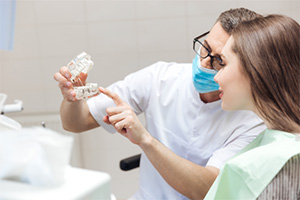 Dental implants allow us to replace the lost roots of missing teeth, but the process can be lengthy and complex. We begin by completing any necessary preparatory treatments like tooth extractions or tissue grafts. Then, we surgically place your dental implant post or posts. Once in place, the implants need to fuse with the jawbone and gum tissue. This process, called osseointegration, can take several months to complete. When the teeth are fully anchored into your supportive structures, we'll place the abutment pieces that attach the implant to the custom dental crown or fixed bridge. Then, we capture impressions that will be used to design your crown or bridge. After the lab has crafted your final restoration, you'll return to our dental office where we'll attach your crown or bridge to the dental implant posts.
Caring for Your New Smile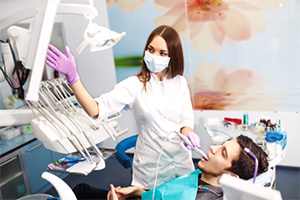 Once your implant supported dental crown or fixed bridge is in place, you can brush and floss as usual. You may want to consider switching to a softer toothbrush and less abrasive toothpaste to avoid excessive wear to the tooth-colored ceramic restorations. For a fixed bridge, you may also want to consider using an air or water flosser to clean plaque and food particles that may accumulate between the gums and the fixed bridge.