August 22, 2019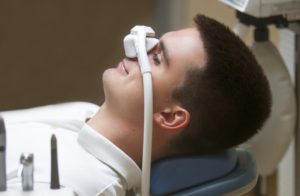 You have an intense fear of the dentist. Just the thought of visiting their office makes you break out in a cold sweat. Unfortunately, this means you have gone without checkups and cleanings for a while, so you probably have several cavities and other problems that need work. Luckily, there are ways to deal with this, such as seeing your sedation dentist in Friendswood. Here are 3 ways that sedation dentistry can benefit you.
1. Cures Your Fear of the Dentist
Does the idea of getting dental work done strike fear into your heart? Or even just make you a little bit nervous? Maybe you had a negative experience at the dentist's office when you were younger. Perhaps you have general anxiety around needle or noise. Whatever the case may be, oral sedation in Friednswood can help. It puts you in such a state of deep relaxation that you can receive the care you need, completely worry-free.
2. Saves Time
Maybe you need multiple procedures done, but you don't want to schedule several different appointments. You can't afford to take that much time off work or school. That's where sedation dentistry comes in. It allows you to get all the dental work you need in one sitting. Cosmetic procedures in particular can be quite long, so many patients opt to be sedated for those appointments.
3. Soothes Sensitivity
If you have sensitive teeth or an overactive gag reflex, you already know that going to the dentist can be a major source of anxiety. Thankfully, sedation numbs those areas. You will be so relaxed that you might not even feel any pain at all. In fact, most patients report that they had far less soreness after treatment when they were sedated than when they were fully present.
No matter what your aversion to the dentist is, you can most likely benefit from sedations dentistry. If you experience dental anxiety, are busy, or are just sensitive to pain, ask your dentist if they offer sedation. It will make getting the care you need a whole lot easier!
About the Author
Dr. James Sierra has achieved Fellowship status with the Academy of General Dentistry as well as the International Congress of Oral Implantology. He has permits to use both nitrous oxide and level 2 oral conscious sedation to make it much easier to get the dental treatment you need. If you frequently experience dental anxiety, don't hesitate to contact Dr. Sierra by clicking here or calling (281) 482-2631.
Comments Off

on 3 Ways Sedation Dentistry Can Benefit You
No Comments
No comments yet.
RSS feed for comments on this post.
Sorry, the comment form is closed at this time.