July 5, 2023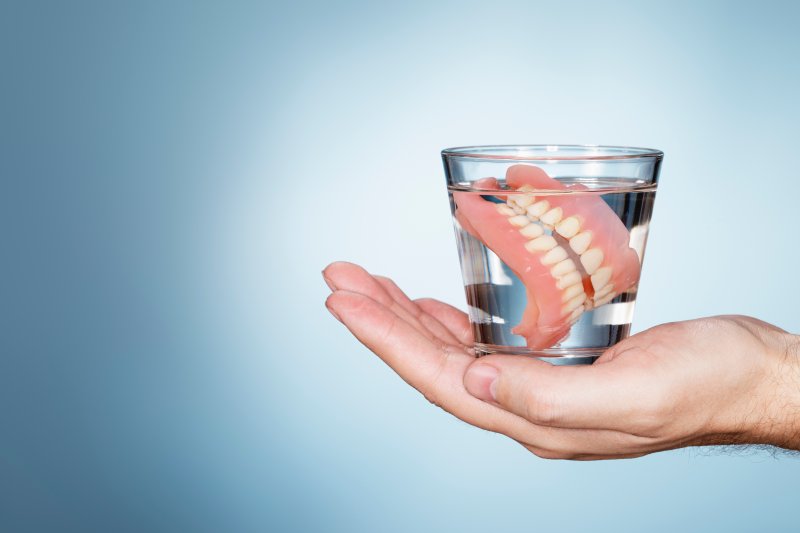 Dentures can be an investment, and while they aren't your natural teeth, it's imperative you take care of them the way you would your own. If you don't clean or protect your dentures, they can lose their shape, warp, or even stain. Damaging your dentures can affect your oral health. Taking proactive measures to make sure your dentures are in good shape preserves your smile for the long haul. Here are 6 bad habits that can hurt your dentures.
1. Not Cleaning Your Dentures Properly or Thoroughly
One of the most common things people forget to do if they have dentures is to brush both their teeth AND dentures. If you neglect your oral hygiene routine, bacteria can accumulate on your dentures. You should gently clean your dentures at least twice a day, especially after eating, to remove food particles.
A soft-bristled toothbrush and non-abrasive toothpaste will help maintain the material of your dentures. Regularly using a denture cleanser goes a long way.
If you still have some of your natural teeth, flossing at least once a day and using antibacterial mouthwash containing fluoride can stop plaque and tartar buildup, reducing your risk for infection.
2. Sleeping with Your Dentures in
Leaving your dentures on for too long can lead to unhealthy tissue, accelerated bone loss, and denture stomatitis. Dentists recommend wearing your dentures for 6 to 8 hours a day. Wearing them 24/7 or to bed can wear out your dentures and cause you oral health problems. Your gums need rest from wearing dentures.
3. Not Wearing Your Dentures Every Day
Although you shouldn't wear your dentures all the time, you need to be wearing them every day. This is so they won't dry out. When dentures dry out, they warp and crack. Daily denture wear ensures you are getting the most use out of it while also protecting its condition.
4. Not Visiting Your Dentist Regularly
Sticking with routine checkups and cleanings lets your dentist monitor your oral health and make sure your gums, teeth, and dentures are in good condition. Visiting your dentist at least every six months allows them to see whether your dentures are fitting properly. If not, they will replace or reline your dentures before you experience any discomfort.
5. Biting Your Nails
Many people struggle with this bad habit. Biting your nails without dentures can already cause damage to your natural teeth. Enamel is stronger than the material used to make your dentures. If you keep biting your nails, you can chip your dentures.
6. Chewing Gum
There are gums out there that are marketed as "safe for dentures", but it's better to avoid all types, including sugar-free ones. Gum can stick to your dentures and dislodge them when speaking or chewing.
A refreshing alternative is to either carry sugar-free soft mints with you or rinse with mouthwash!
About the Author
Dr. James T. Sierra of Friendswood Dental has a life-long passion for esthetic and restorative dentistry. If you are missing multiple, most, or all of your teeth, Dr. Sierra frequently works with dentures to dramatically transform your smile and improve your quality of life. If you're looking to bring life back to your grin, you can contact Dr. Sierra through his website or by phone at (281) 482-2631.
Comments Off

on 6 Bad Habits that Hurt Your Dentures
No Comments
No comments yet.
RSS feed for comments on this post.
Sorry, the comment form is closed at this time.