June 20, 2018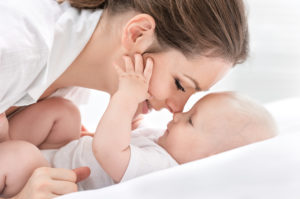 Congratulations on your new bundle of joy! Having a tiny human around the house is both an immeasurable honor, and let's be honest, a stressor. You want to do everything right for your baby, and in all your eagerness to be the ideal mom, you might forget to give yourself the TLC you deserve. Let's talk a bit about how you can look after your dental health while you're breastfeeding near League City.
Breastfeeding and Mom's Oral Health
It's been well-established that breastfeeding is good for babies' oral health. It can help them to avoid "baby bottle decay," and research even suggests that it can help to prevent some orthodontic problems. As great as breastfeeding is for new arrivals, however, it can take a toll on Mom's oral health if you aren't careful. Here are a few ways that breastfeeding might harm your smile:
Life changes can affect your habits. Adding a new member to your family is a huge adjustment, and even if you're already in the process of raising older children, an infant can still easily transform your routine. In all of the new-baby chaos, you might start to neglect your good oral hygiene habits. Some moms fall into the trap of brushing their teeth only once a day, or worse, not at all.
Stress may cause bruxism. The challenges of taking care of a little one can easily increase your stress levels, which is a major risk factor for bruxism (teeth grinding). This habit can cause premature wear and tear on your smile.
Dehydration. Unfortunately, it's not uncommon for breastfeeding moms to experience dehydration. One of the side effects of dehydration is dry mouth, which increases your risk of tooth decay.
Caring for Your Smile While Breastfeeding
From the date your bundle of joy arrives, please be determined to:
Brush your teeth at least twice a day and floss regularly. Not only will this be good for your smile, but it will also benefit your baby. After all, you don't want to accidentally transfer harmful bacteria to your little one if you share a spoon or some smooches.
Drink plenty of fluids. Taking in enough water is important to prevent hydration.
Be aware of changes in your mouth. If you notice that you have a sore jaw or significant tooth pain, you may be unconsciously grinding your teeth. Taking a few steps to reduce your stress levels and visiting your dentist near League City to ask for a nightguard might be what you need to do to save your smile from the ravages of bruxism.
You want your baby to grow up seeing lots of healthy, happy smiles from Mom, so please take steps to care for your oral health while you're breastfeeding your dear little one.
About the Dentist
Dr. James Sierra is a skilled dentist who is a member of several professional organizations. He enjoys building relationships with his patients and helping them maintain their oral health through all of life's wonderful changes. If you're a new mom who needs a dental checkup, please contact our office at 281-482-2631.
Comments Off

on A Dental Care Guide for Breastfeeding Mothers
No Comments
No comments yet.
RSS feed for comments on this post.
Sorry, the comment form is closed at this time.