June 10, 2019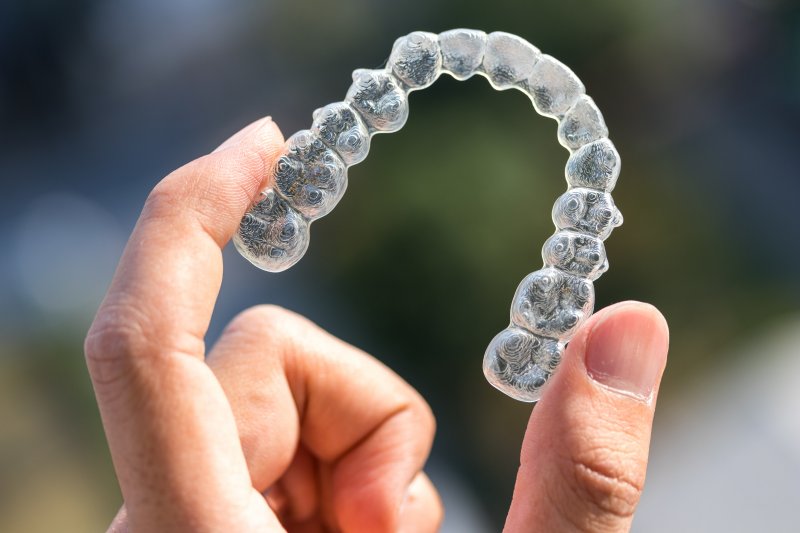 Since the introduction of Invisalign orthodontics to the world, a door has been opened to patients who previously were apprehensive about undergoing bite correction. For many, the hesitation centered around the idea of having to wear metal braces. With Invisalign treatment, this roadblock has been eliminated. However, you might be wondering, "Can I just get Invisalign on the top row of teeth?" Although this may seem like a faster and more cost-effective option, it could actually slow down your treatment process. As you read on, a local dentist explains how to get the most effective results!
How Does Invisalign Work?
The Invisalign process of correcting bite flaws relies on a series of plastic trays to be worn in two-week increments until the desired results are achieved. The trays come in sets: one for the bottom row of teeth and the other for the top. Based on the custom smile plan that is created by your dentist, the trays will apply the right degree of tension to the top and bottom teeth, which will gradually adjust them to their correct position. Thus, with each exchange of trays, you'll be getting closer to your final goal of a perfectly-straight smile.
The Problem with Single Row Adjustments
One of the key points to remember in regard to Invisalign treatment is that, while it creates an appealing and attractive smile, it is, first and foremost, an orthodontic procedure. That means the first priority is to have properly aligned teeth that function correctly.
Therefore, attempting to only wear one aligner to adjust a single row of teeth could cause the following issues:
An uneven bite
The possibility of unnatural tooth wear
Jaw pain from improper alignment
The better and safer option, then, is to be fitted with a complete set of Invisalign aligners. Therefore, you can rest assured that when your treatment process is done, you'll have a healthy and correctly-aligned smile.
How to Move Forward
Typically, Invisalign in Friendswood can be used in cases of mild crookedness, crowding or gapped teeth, and in some situations, it can even correct an overbite, underbite or crossbite. To eliminate any guessing and to determine if it's the right fit for you, reach out to your local dentist to schedule a consultation. After performing a thorough examination, the professional will custom design a plan to fit your specific needs. Then, by receiving a complete set of trays, you'll have the smile of your dreams and longer-lasting results!
About the Author
Dr. James T. Sierra earned his dental degree from The University of Texas Health Science Center at San Antonio. Since graduating, he has maintained a commitment to expanding his knowledge, which is why he has taken over 1,200 hours of continuing education. A member of the American Academy of Cosmetic Dentistry and a preferred provider for Invisalign, Dr. Sierra creates gorgeous smiles at Friendswood Dental Group, and he can be reached for more information through his website.
Comments Off

on For My Smile Flaws, Can I Just Get Invisalign for the Top Row of Teeth?
No Comments
No comments yet.
RSS feed for comments on this post.
Sorry, the comment form is closed at this time.