March 21, 2019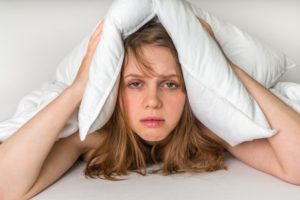 You're not a morning person. You hate waking up because you don't feel rested. Well, did you know that your thyroid can influence your sleep? Your hormones can impact nearly everything that your body does—including sleep. Although the two might seem mutually exclusive at first, if your thyroid hormones are outside normal levels, you could be at increased risk of sleep apnea in Friendswood, particularly obstructive sleep apnea. Keep reading to learn more about what is causing sleep disorders in Friendswood.
What does your thyroid do?
Your thyroid, a butterfly-shaped gland in the middle of your neck, produces hormones that control your metabolism rate. Basically, it is the gland that helps your body use energy. When thyroid hormones are within a normal range, your body is able to metabolize efficiently and can maintain a healthy weight. If they are too high (hyperthyroidism) or too low (hypothyroidism), they cause a multitude of health problems, including sleep apnea symptoms.
What are the symptoms of sleep apnea?
As a condition in which your breathing periodically stops for 10 or more seconds while you slumber, sleep apnea is a serious ailment that has been linked to hypertension and high blood pressure, two main causes of heart disease. Sleep apnea has many symptoms, including the following:
Loud, chronic snoring.
Daytime drowsiness and fatigue.
Tiredness upon waking, despite the quantity of sleep.
Gasping for air during the night.
Waking up during the night.
Night sweats.
Dry mouth during sleep.
Headaches in the morning.
Moodiness or depression.
Forgetfulness or the inability to focus.
How can your thyroid impact your sleep?
Patients who have hypothyroidism often experience obstructive sleep apnea as well. That's because hypothyroidism can cause problems with respiration, such as damage to the nerves or muscles involved in breathing. Hypothyroidism can also lead to an enlarged tongue, called macroglossia, which can make breathing more difficult. In many cases, those with this thyroid condition are at increased risk for obesity, another cause of obstructive sleep apnea.
How can your dentist help you address sleep apnea?
If you have hypothyroidism or hyperthyroidism, you need to see your doctor for treatment first. In some cases, sleep apnea symptoms can be resolved by first addressing thyroid function. As a result, you may be able to get other risk factors of sleep apnea, such as obesity, under better control. If, however, your sleep apnea symptoms continue even with thyroid treatment, you can seek sleep apnea therapy with your dentist, who can provide an oral appliance that positions your lower jaw to keep the airways open during sleep.
Although thyroid and sleep disorders may not seem like huge problems, they can lead to significant health risks in the long run. It is worth the time and effort to address each of them to make sure your body is function optimally and getting sufficient rest. That way, you can wake up energized and ready to tackle each new day. Maybe you'll turn out to be a morning person after all!
About the Author
Dr. James Sierra is a Fellow with the Academy of General Dentistry and is one of only 200 dentists in the United States who are trained in the trademarked Nightlase procedure, which is a revolutionary non-surgical treatment to eliminate snoring and sleep apnea symptoms. At Friendswood Dental Group, he and his staff also offer sleep apnea therapy through oral appliances. To schedule an appointment with him, you can call (281) 482-2631 or click here.
Comments Off

on Can Your Thyroid Affect Your Sleep Apnea in Friendswood?
No Comments
No comments yet.
RSS feed for comments on this post.
Sorry, the comment form is closed at this time.