July 7, 2020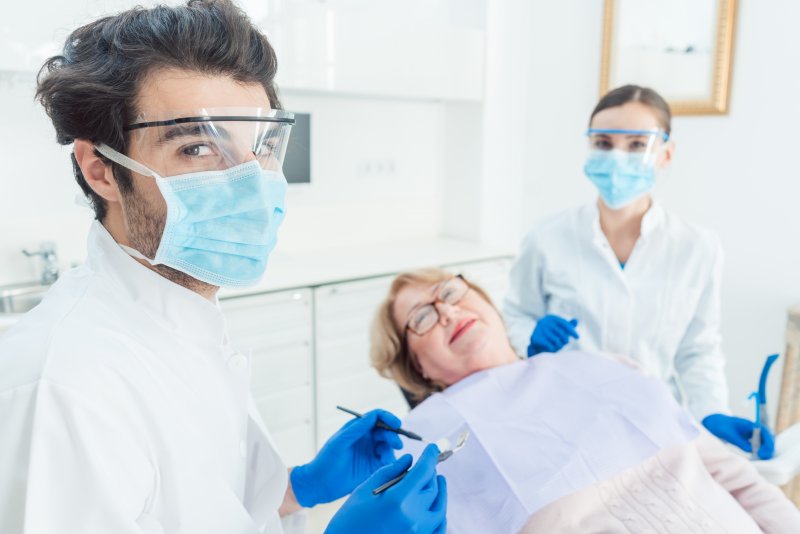 Are you worried about attending your dental appointment during the COVID-19 pandemic? That's understandable given that we're being asked to stay home as much as possible for the time being. Even though it's impossible to go anyplace with zero chance of becoming sick, the truth is that the dentist is actually a low-risk environment. With all of the new dental safety protocols in Friendswood, you don't have very much to worry about. Continue reading to learn more about the safety of dental offices and the different preventive measures in place to keep patients safe.
Is the Dentist's Office a Safe Place to Visit During the Pandemic?
No location is 100% protected from COVID-19. However, according to the CDC and the World Health Organization, there have been no cases of the virus that have been traced back to a dental office so far. Back in May, the CDC issued additional guidance for dental practices to help keep patients and the staff protected from becoming sick. Guidance continues to be periodically updated in accordance to the ongoing situation. Ultimately, going to the dentist is extremely low risk and helps to prevent oral health problems from developing and worsening.
What Steps Are Being Taken by Your Dentist to Keep You Safe?
Your dentist in Friendswood is taking 16 additional steps on top of the already strict guidelines they had. By doing all of these things, your risk of becoming ill with COVID-19 is significantly reduced. Here are just a handful of the preventive measures being taken:
Daily Health Checks
Each day, when the dental team comes into the office, they are asked a set of questions regarding their current health. They are also required to complete a no-touch temperature check. This helps to ensure that the staff is willing and able to provide safe dental care to patients.
Anti-Microbial Rinse
Your dental staff will ask you to use an anti-microbial rinse before the start of your appointment. This helps to kill bacteria in the mouth before they give you treatment.
Sequenced Patient Scheduling
Appointments are being spaced out further than usual. This is to give the staff plenty of time to complete additional cleaning and to reduce your likelihood of having unnecessary contact between patients. The less people in the practice at one time, the better.
Pre-Screening of Patients
When you arrive to the office, you'll be asked to complete a health questionnaire and a consent form. You will also have your temperature taken using a no-touch thermometer. This way, no one is coming into the office with COVID-19 symptoms.
Social Distancing in Place
Chairs have been removed from the reception area and helpful signs have been placed around the practice. There is also a one-way traffic system in the treatment area to make social distancing in the office a reality.
Increased Personal Protective Equipment
Your dentist always uses PPE. Now, there will be even more. The clinical team will be wearing N95 and ASTM Level 3 Masks as well as face shields and disposable, protective coats and hats. This significantly helps to reduce the transmission of illnesses in the office.
HEPA Air Filtration
Your practice has added HEPA grade filters to their HVAC system along with stand alone air cleaners in each operatory.
As worrisome as it can be to leave your home during a pandemic, your dentist is doing everything in his power to keep the team and patients safe from COVID-19. You can attend your regular visits with peace-of-mind.
About the Author
Dr. James T. Sierra provides a wide array of services at his practice in Friendswood, TX. He earned his Doctor of Dental Surgery from The University of Texas Health Science Center at San Antonio. Since then, he has completed over 1,200 hours of continuing education. He is also a member of numerous professional organizations including the American Dental Association and the Academy of General Dentistry. Dr. Sierra and his team are taking 16 additional steps to protect the office from COVID-19. For more information or to schedule and appointment, visit his website or call (281) 482-2631.
Comments Off

on Should You Go to the Dentist During the COVID-19 Pandemic?
No Comments
No comments yet.
RSS feed for comments on this post.
Sorry, the comment form is closed at this time.