June 29, 2020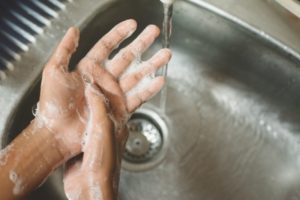 Besides social distancing, the best way to limit your exposure to the novel coronavirus is to wash your hands frequently. Proper hand hygiene has always been especially important in dentistry, considering they spend a majority of their time getting up close and personal with their patients' mouths. To ensure their patients are as safe as can be during this pandemic, your dental team is adding even more precautionary steps to their already vigorous handwashing routine. Here's how your dentist in Friendswood is keeping their hands clean to make sure you're germ-free while you're under their care.
Regular Handwashing
As the Centers for Disease Control and Prevention has reiterated for the past several months, washing your hands at regular intervals is one of the best ways to protect yourself from germs. However, you must do it correctly in order to achieve the maximum benefits. Your dentist and their team members thoroughly scrub their hands clean with soap and water several times throughout the day, including:
Before leaving and directly after arriving at the practice
Before putting on and immediately after taking off gloves
Before and after treating each patient
Disposable Gloves
Much like handwashing, disposable gloves are an excellent way to protect yourself from the germs that cause COVID-19, but only when used properly. They act as a barrier between the skin of your hands and the outside world. However, gloves can then spread germs to other surfaces you touch while wearing them, like countertops, light switches, and doorknobs. For this reason, your dental team will don a new pair of gloves to treat every patient. Afterward, all gloves are thrown out and replaced, and the instruments are sanitized, preventing germs from one patient infecting another.
Personal Hygiene Standards
In the time of COVID-19, it's much better to be safe than sorry when it comes to personal hygiene. Along with routinely washing their hands and regularly switching out gloves, your dental team will also:
Keep their fingernails clean and trimmed
Refrain from wearing artificial nails
Remove any hand jewelry like rings, bracelets, and watches prior to treating you
Hand hygiene is more important now than it has ever been. If you need to visit your dentist during the COVID-19 pandemic, rest assured you'll be safe from infection while you're under their care.
About the Author
Dr. James Sierra is a dentist in Friendswood, TX who has earned Fellowships in both the Academy of General Dentistry and the International Congress of Oral Implantologists. He is also a Master of the International Dental Implant Association. In addition to the accolades, he makes sure to follow all recommended dental safety protocol to keep his patients clean and comfortable during their appointments. To learn more about how Dr. Sierra will ensure your safety while you're at his office, you can visit his website or call his practice at 281-482-2631.
Comments Off

on How Your Dental Team Keeps Their Hands Clean During COVID-19
No Comments
No comments yet.
RSS feed for comments on this post.
Sorry, the comment form is closed at this time.