August 11, 2017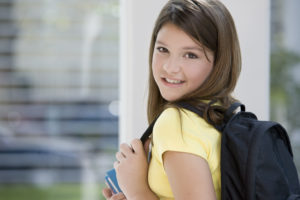 Back to school time brings with it a flurry of activities focused on getting the necessary supplies, clothes, and new shoes! You're probably not thinking about your child's oral health right now; however this is a great time to schedule their routine cleaning and checkup. Your dentist in Friendswood offers tips on how to protect your child's oral health during the upcoming school year.
Routine Dental Visits
Just as you update your child's immunizations with your pediatrician each year, a routine cleaning and checkup are also very important. Dental issues such as tooth decay or cavities tend to sneak up, and they don't cause pain until it's too late.
Regular dental checkups every six months allow us to monitor your child's oral health and detect any concerns in their earliest stages, so you can be proactive with less invasive treatment procedures. This saves them unnecessary pain, and missed time at school.
If school has already started for your child, Friendswood Dental offers convenient early morning or after school appointments.
Healthy Lunches and Snacks
Choosing the right foods for school lunches and snacks is important. Eating fruits and vegetables actually neutralizes the acids in their mouths that cause tooth decay. They also increase saliva flow, which helps to wash away food debris and other bacteria. Limit sugary snacks and beverages, and send them healthy options such as fruits and raw vegetables like carrot sticks.
Additional Services
Our doctors may recommend additional services for your child such as fluoride treatments or dental sealants. Fluoride helps to strengthen small teeth that are developing, while also remineralizing teeth that have been affected by decay. Fluoride is a quick and easy treatment that can be applied right after their dental cleaning.
Dental sealants are a thin coating that goes over the chewing surface of their teeth to protect them from the acids that cause cavities. Sealants are a non-invasive procedure that can be completed in one appointment, and they reduce the number of cavities we see in children.
Does your child participate in a sport? Are they wearing the right protective gear? More than 40% of dental emergencies occur due to sports, so it's important to protect their teeth and mouth, and customized mouth guards offer better protection. Friendswood Dental can create a custom fit guard for them so they can make the most of their time on the field and not worry about injury.
Contact Friendswood Dental
If it's time to schedule your child's next dental appointment, give your family dentist in Friendswood a call today!
Comments Off

on Your Dentist in Friendswood Offers Back To School Tips
No Comments
No comments yet.
RSS feed for comments on this post.
Sorry, the comment form is closed at this time.