October 2, 2018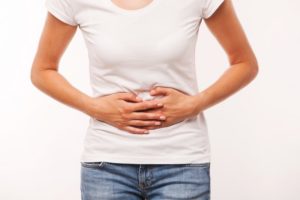 According to the American Nutrition Association, 70 million people suffer from digestive issues. These issues can occur for many reasons like diet, eating too fast, and much more. If you have a gastrointestinal disorder in Friendswood, it could be affecting your teeth and gums. Keep reading to learn about 3 common digestive problems, how they affect your oral health, and what you can do to help from your local dentist.
Gastroesophageal Reflex Disease (Heartburn)
Gastroesophageal Reflux Disease, known by most as heartburn, causes a burning feeling in your chest or bad taste in your mouth. Your teeth get affected because heartburn causes acids from the stomach to enter the oral cavity, which can erode your tooth enamel. Stomach acid can cause more erosion than normal acids in the mouth produced by plaque.
How You Can Help
If you suffer from heartburn, the best step you can take is to let your dentist know. From there, they an oral rinse or recommend fluoride treatments in order to strengthen your teeth and combat stomach acid. You may also consider taking antacids to neutralize stomach acids.
Inflammatory Bowel Disease
Inflammatory Bowel Disease (IBD) is a chronic inflammation of the gastrointestinal tract. IBD can affect oral health, especially in children, and its symptoms in the mouth may include sores, infections, or bleeding and swollen gums.
It's important to note that prescriptions for IBD can also cause oral health problems like dry mouth, gingivitis, and tongue inflammation.
How You Can Help
If you suffer from IBD, talk to your dentist about it and be sure to tell them if you're taking any medications for it. Your dentist can keep a close eye on the condition of your oral health, and they can monitor your blood pressure and glucose levels to have a better idea of your condition when providing dental care.
Peptic Ulcers
Peptic ulcers are sores that develop in the lining of the stomach, lower esophagus, or small intestine. This disorder is common in America, and it affects more than 6 million people each year. Just like IBD, some medications that people take for this disorder can have a negative affect on their oral health such as dry mouth or change in taste.
How You Can Help
Be sure to let your dentist in Friendswood know of any prescriptions you're taking because they could affect your teeth and gums. After this, your dentist can adjust your treatment to meet your specific needs, and they can give tips on how to deal with some of the side effects of your medication.
Whether you have one of the common disorders listed above, or you have different stomach issues, it's important to know that they can affect your mouth. Talk to your dentist about any digestive problems you've been having to keep your oral health in tip-top shape!
Meet the Dentist
A graduate of The University of Texas Health Science Center in San Antonio, Dr. James T. Sierra is a native Texan who loves caring for his patients. He believes in patient education, which is why he provides information about the link between your stomach and your oral health. For any questions, he can be contacted through his website or by phone at (281) 482-2631.
Comments Off

on How Your Gastrointestinal Disorder in Friendswood Affects Your Teeth
No Comments
No comments yet.
RSS feed for comments on this post.
Sorry, the comment form is closed at this time.