April 14, 2019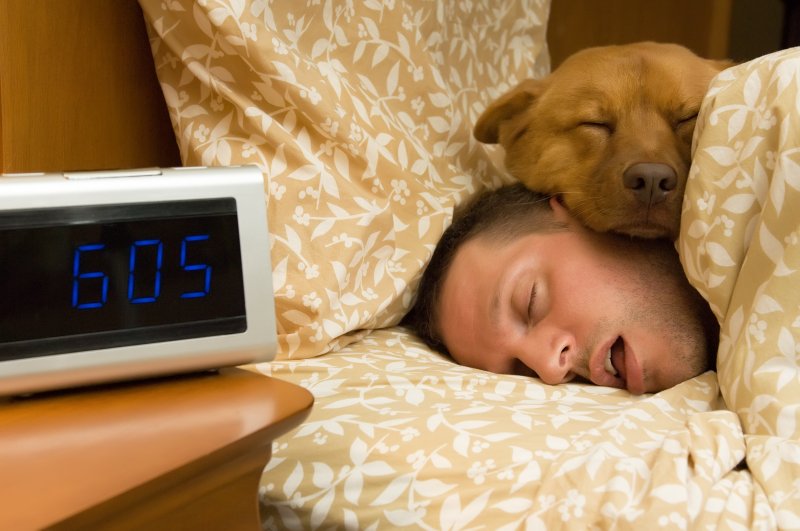 Who doesn't love rolling over and being greeted by a wet nose and goofy smile? Your dog is your best friend, we understand. But, could your willingness to share your bed with your furry friend negatively impact your sleep apnea in Friendswood? Before you run out and buy a fancy new dog bed to serve as their new sleep quarters, read on to find out if keeping Fido in the bed or on the floor is better.
Should I Just Let Sleeping Dogs Lie?
When it comes to sharing your bed with your dog, cat, or another four-legged family member, there's really no right or wrong answer. According to a study performed by researchers at The Mayo Clinic, individuals who slept with a dog in their room experienced an 83% average sleep efficiency. Those who let their dog sleep on the bed experienced more disruption, but only a slightly lower sleep efficiency at 80%.
In other words, if you're going to share a bed with your pet, you should expect to be woken up a few times throughout the night because of the animal's need to change position, etc.
However, if you suffer from sleep apnea, it may be best to keep your pet off the bed to limit the number of disruptions. This disorder already causes enough problems between snoring, stopped breathing, and gasping for air. If you're managing to sleep soundly at night and are woken up by your dog or cat, it can disturb your sleep pattern, making it difficult to get a restful night's sleep.
How Can Oral Appliance Therapy Help?
You've participated in a sleep study in Friendswood, and your dentist has diagnosed you with sleep apnea. Now what? If this is new to you, you may be wondering what can be done to help you get good sleep. The answer is oral appliance therapy.
Using a custom-fitted device that looks just like a mouthguard, it will shift your jaw slightly so that your throat muscles will tighten, helping to keep your airway open throughout the night. That means sufficient air will be able to push into your lungs, helping you to breathe easier and rest longer.
Unlike a CPAP that is bulky and can be difficult to manage, an oral appliance is compact, portable, and convenient for anyone suffering from sleep apnea.
So, the choice is up to you whether you want to keep your furry friend in bed or not. It can be hard to resist that sweet, loving face, but even while wearing your oral appliance, if you feel you may not be able to rest well with your dog laying next to you, it may be time to introduce him to the comforts of a beautiful new dog bed.
About the Practice
At Friendswood Dental, we see and treat many patients who suffer from sleep apnea. Surprised to learn their dentist can help, our dental professionals will work to provide the highest quality care, using advanced techniques to ensure you receive positive and lasting results. To learn more about how we can help, contact us via our website or by calling (281) 482-2631.
Comments Off

on Learn How Your Furry Friend Affects Your Sleep Apnea in Friendswood
No Comments
No comments yet.
RSS feed for comments on this post.
Sorry, the comment form is closed at this time.