August 15, 2022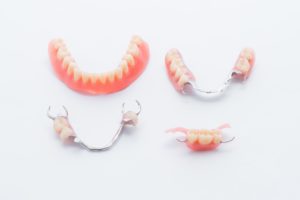 There are more options than ever to replace lost teeth thanks to the advancements in dentistry throughout the centuries. Tooth loss isn't a modern problem. Dentures have been used for generations to replace missing teeth, but they didn't always have the excellent reputation they have today. The evolution of dentures throughout history has paved the path for the natural-looking results and the success of modern tooth replacement methods.
Early Dentures
Believe it or not, Etruscans in Italy during the seventh century tried their hands at recreating teeth using those taken from humans or animals held in place with gold wires. The Japanese were the first people to craft the initial modern-looking denture made of wood that used suction to stay in place. Although they had their benefits, they were very uncomfortable, which led the way for the earliest type of impressions using beeswax. Eventually, they used a harder wax to create a model of the gums to make a better fitting denture.
Other countries adopted this method until Pierre Fauchard made the first dentures with a metal frame to hold teeth made of animal bone. In 1770, the first set of porcelain dentures was made. As time went on, porcelain teeth were affixed to 18-carat gold plates until the discovery of rubber. It became the go-to material for dentures because it was much easier and more comfortable for patients to use. Over the last century, acrylic resin and other plastic materials have been used to create more realistic results.
Modern Tooth Replacement Methods
Now, there are multiple methods to treat missing teeth; however, dentures remain a common solution. Modern dentures are made from acrylic resin using an impression of your mouth to ensure it fits your smile like a glove. It features custom-made porcelain teeth that closely mimic your own. The denture rests on top of the gum tissue and is held in place using suction. They can last for 5 to 7 years before needing to be replaced.
Although traditional dentures are effective, more than 500,000 people annually are choosing dental implants, which recreates both the roots and crowns. As a result, they provide the next best thing to your real teeth. By replacing the roots, your jawbone stays strong and healthy while restoring 70% of your biting force. Titanium posts placed into the bone provide unmatched support and stability, so you'll never have to worry about any slipping or irritation. Not to mention, they have over a 95% success rate to thrive for decades.
If you've lost teeth, never settle for anything less than the best. Invest in a tried and proven solution to enjoy a confident, functional smile again.
About Dr. James T. Sierra
Dr. Sierra earned his dental degree from the University of Texas Health Science Center, where he developed a focus on implantology. He regularly pursues continuing education to offer the most advanced treatments, like dental implants and dentures. Contact our office today to request your consultation for a complete smile.
Comments Off

on Discover the Evolution of Dentures
No Comments
No comments yet.
RSS feed for comments on this post.
Sorry, the comment form is closed at this time.