October 11, 2019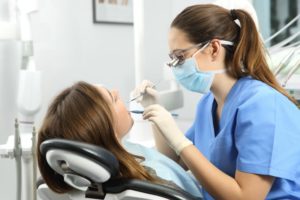 The goal of October should be about more than having a happy and spooky Halloween. Since October is also National Dental Hygiene Month, you should also focus on having better oral health habits. In fact, while your dentist in Friendswood is here, let's talk about 4 major ways you can observe National Dental Hygiene Month.
1. Brush
Brushing should be one of the first things you do in the morning and the last thing you do before bed. Make sure to practice proper brushing techniques, which involve:
Holding the brush at a 45-degree angle
Gently brushing back and forth in short strokes
Brushing the inside, outside, and chewing surfaces of the teeth
Additionally, make sure to look for a toothbrush with soft bristles that fits easily in the mouth. Your brush head should be large enough to brush one to two teeth at a time. Change out your toothbrush every 3 months, or sooner if you've been sick or the bristles look worn or frayed.
2. Floss
Flossing is the best, and in fact the only, way to clean out food debris from along the gumline, reducing your risk of tooth decay and gum disease. Make sure to clean between every tooth and behind your back molars.
While we usually say, "brush and floss" and not "floss and brush," it's actually a good idea to floss first. That way the spaces between your teeth are opened up, allowing them to more easily receive the benefits from your toothpaste.
3. Rinse
Your teeth and gums only make up about half of your mouth, so there's only so much that brushing and flossing can do. Rinsing with mouthwash can clean those hard-to-reach areas. Every mouthwash is different, so be sure to read the label to know whether to use it before or after brushing and flossing. Moreover, look for the American Dental Association (ADA) Seal of Approval on a mouthwash before buying it.
4. Chew
The ADA has suggested that chewing sugar-free gum for about 20 minutes after eating can decrease your chance of getting tooth decay and gum disease. Chewing stimulates saliva production, which sounds gross but is actually good for you. Saliva washes away acids left behind by bacteria. These acids wear down tooth enamel, leaving you more susceptible to cavities and tooth sensitivity. Just be sure the gum you chew doesn't have any sugar, and has the ADA Seal of Approval.
October is about much more than being spooky. It's also a perfect opportunity to learn about oral health and hygiene. Start implementing the habits listed above into your daily life.
About the Author
Dr. James Sierra is one of very few dentists to have earned Fellowships in both the Academy of General Dentistry and the International Congress of Oral Implantologists. He is also a Master of the International Dental Implant Association. He is passionate about improving patients' smiles as well as their lives in general. To schedule your next dental cleaning in Friendswood, Dr. Sierra can be contacted through his website or by phone at (281) 482-2631.
Comments Off

on October Is National Dental Hygiene Month — Here's How to Celebrate
No Comments
No comments yet.
RSS feed for comments on this post.
Sorry, the comment form is closed at this time.