September 8, 2021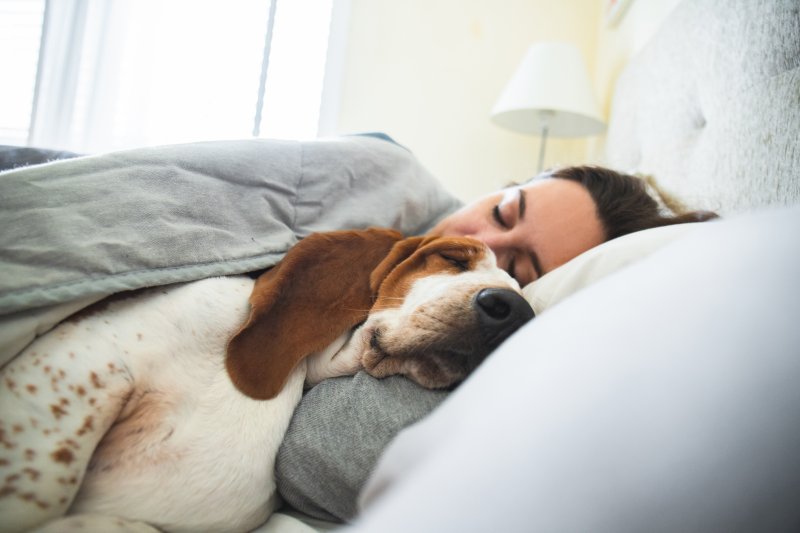 According to the American Veterinary Medical Association, dogs can be found in roughly one-third of homes in the United States. That means it's very likely that you have a furry friend at home! Do you allow them to snuggle up with you in bed? Most people do. However, research has found that it can have some surprising effects on your quality of sleep, especially if you have sleep apnea. If you're interested in learning more, continue reading as we discuss what you should know about pets and sleep apnea.
What is Sleep Apnea?
Sleep apnea is a potentially serious sleep disorder that affects millions of Americans each year. It's characterized as the cessation of breathing for ten or more seconds at a time throughout the night. If you feel groggy, tired, or unable to focus during the day after a restless night, you might have sleep apnea. A few other symptoms include loud snoring, waking frequently at night, gasping for air while sleeping, and irritability. Luckily, once you have a diagnosis, your dentist can provide you with treatment to help you breathe easier and enjoy a more restful night.
Pets and Sleep Efficiency
Most people who have a pet allow them to sleep in their bedroom at night. But have you ever thought about how this affects your sleep? One study found that sleep efficiency (amount of time asleep versus awake in bed) was highest when a human slept with a human partner and medium sized dog in the room. Contrarily, efficiency was lowest when there was no human partner and only a small dog in bed. Overall, the average sleep efficiency rating for humans was 81 percent. Although that percentage is considered normal, the ideal outcome is 90 percent for good sleepers.
Is It Okay to Share a Bed with Your Pet If You Have Sleep Apnea?
Even though sleeping with pets doesn't affect sleep efficiency too much, you might want to reconsider the exercise if you have sleep apnea. While it's comforting having your furry friend sleep next to you in bed, they're preventing you from having the best possible sleep. Their movements and sounds can keep you from falling into a deep, restful sleep. And if you have obstructive sleep apnea, there's a higher chance that you'll wake up from any sound or motion. So, the best course of action for those with sleep disorders is to do everything possible to increase sleep efficiency. Unfortunately, that may mean keeping your pet outside of the bedroom at night.
If you have sleep apnea, ask your dentist how sharing a bed with your pet can affect your quality of sleep. You should never wake up feeling tired, so if you do feel that way, you might want to reconsider allowing your pet into your bedroom at night.
About the Author
Dr. James T. Sierra earned his Doctor of Dental Surgery from the University of Texas Health Science Center at San Antonio. Since graduating, he has attended numerous hours of continuing education courses to grow his skill set and give patients the best treatment possible. If you're struggling to get a good night's sleep, Dr. Sierra can help you get the rest and relaxation you deserve with sleep apnea therapy. To learn more, visit our website or call (281) 482-2631.
Comments Off

on Does Sharing a Bed with Your Pet Affect Sleep Apnea?
No Comments
No comments yet.
RSS feed for comments on this post.
Sorry, the comment form is closed at this time.