July 31, 2018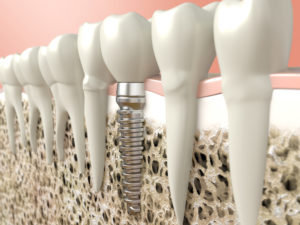 Over the past few decades, dental implants have steadily improved and grown in popularity to become the best way to replace one, two, or any number of missing teeth. The procedure is completed over the course of two major phases: placement and restoration. Some dentists offer both as part of comprehensive dentistry services, while others will only restore dental implants and refer the first part of the procedure out to a periodontist or an oral surgeon. Placing dental implants in Friendswood is a surgical procedure that requires an expert's attention and care. Keep reading to learn more about how it works.
Preparation and Treatment Planning
To set up your treatment plan, your dentist, periodontist, or oral surgeon will first evaluate the extent of your tooth loss and take X-rays and impressions of your jaw to identify the correct placement for the implant posts. The treatment planning phase is a crucial aspect of successful dental implant procedures. During this process, your mouth and jawbone will also be examined to determine whether or not you need to have a preliminary bone graft to create the proper environment for dental implants. If you do, this will be completed before the implants can be placed.
Placement of the Implant Post(s)
Once it has been confirmed that your jaw is healthy, strong, and ready to accept the implant posts, another appointment will be made for the implant placement. Local anesthesia is used to numb the treatment site; sedation dentistry is generally available for in-office patients who could use a little help relaxing. In more complex cases, general anesthesia may be required in a hospital setting.
Only after you are completely comfortable will the procedure begin. Using state-of-the-art tools, the dentist, periodontist, or oral surgeon will open the gums and insert the implant posts with careful precision and according to your dental implant treatment plan. Sometimes, a surgical guide is used — this is a screen that projects an image of the surgery onto a screen, allowing your dentist to get a comprehensive, live, and crystal-clear image to determine exactly where the implant post should go.
When each implant post has been placed, the gums will be closed and you are given some time to wake up from the anesthesia or sedation that were used. Recovery begins immediately!
Recovery and Restoration
The recovery for dental implant procedures typically lasts between 4 to 6 months. During this time, the titanium implant posts encourage the growth of bone tissue to help them fuse together with the jaw bone. When the process — which is known as "osseointegration" — is complete, the implant posts can be restored with the crown, bridge, or denture that completes your smile.
The procedure for dental implants takes some time, but it's worth it for your improved oral health! If you are missing teeth, don't hesitate to get started with this quality tooth replacement.
Meet the Dentist
Dr. James T. Sierra is an expert implant dentist and Fellow of the International Congress of Oral Implantology. He offers comprehensive dental implant services from the comfort of his private practice, Friendswood Dental Group. To learn more about dental implants in Friendswood and find out whether or not you are a candidate, get in touch by calling 281-482-2631.
Comments Off

on Learn the Process for Placing Dental Implants in Friendswood
No Comments
No comments yet.
RSS feed for comments on this post.
Sorry, the comment form is closed at this time.