June 14, 2022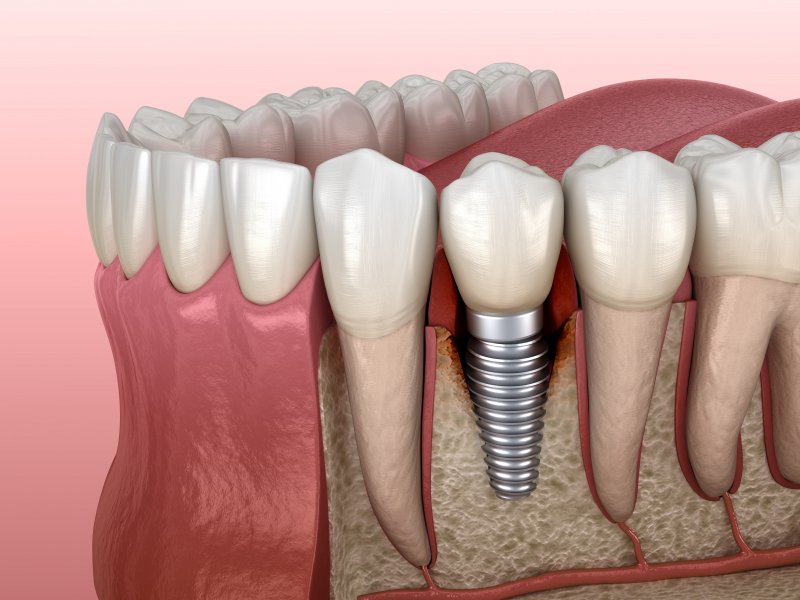 Sensitivity in your dental implant might seem ordinary, but you should still have it checked by your dentist. After all, it isn't always just post-treatment soreness. Left untreated, this discomfort could become more painful and expensive.
To help out, here's a summary of known causes for implant sensitivity and why to visit your dentist about it. Please read it so your replacement tooth will be in better shape to fill your smile.
Common Implant Sensitivity Causes
First of all, keep in mind that dental implants themselves don't have nerves. As such, implant-related discomfort is usually due to irritation or infection in the surrounding teeth.
On the other hand, your pain could also be caused by gum tissue around the implant. Said tissue can become inflamed or suffer periodontitis (i.e., gum disease). Allergic reactions, nerve damage, and crowding teeth are also common causes.
In the end, the only way to confirm the exact origin of the sensitivity is to have your dentist examine it.
See Your Local Dentist
As shown by the above causes, implant sensitivity often serves as a warning sign of severe conditions. Thus, visiting your local dental practice for diagnosis and treatment is essential. Otherwise, you'd be risking more significant worries like bone loss, tooth loss, and long-term damage to your oral health.
A professional dentist will be equipped to find the source of your sensitivity. From there, they can decide how best to reduce any lingering aches and suggest possible options.
Reducing Sensitivity Before Your Appointment
Even if you need to wait for a scheduled appointment, you can reduce your sensitivity in the meantime. The proper practices and techniques could make any lingering pain much more manageable. These include:
Using a soft-bristled toothbrush to brush your teeth
Using dentist-approved floss to remove food particles, plaque, and debris from between your teeth.
Seeing your dentist for regular checkups every six months (or more)
Avoiding sugary, acidic foods
Quitting unhealthy habits like smoking, chewing ice, teeth grinding, etc.
Sensitivity in your dental implant may start small, but it can easily grow into a major problem. That said, visit your local dentist early to ensure your smile isn't permanently harmed.
About the Practice
Friendswood Dental Group has been based in Friendswood, TX, for over fifty years. As led by Dr. James Sierra, their team is proud to continue this long legacy of care by exceeding patient expectations. They thus offer comprehensive preventive, cosmetic, and restorative treatments, including emergency dental services. They also use the latest dental technology to ensure high-quality results. For more information or to book an appointment, they can be reached at their website or by phone at (281)-482-2631.
Comments Off

on Why is My Dental Implant Feeling Sensitive?
No Comments
No comments yet.
RSS feed for comments on this post.
Sorry, the comment form is closed at this time.