November 3, 2019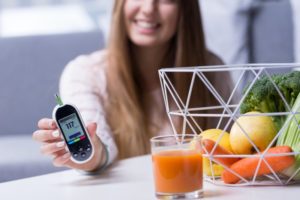 It is estimated that almost 30 million people in the United States have diabetes, and an additional 8 million may have diabetes but be unaware of their condition. If you have been diagnosed with this disease, you are likely doing all you can to maintain your overall health. But what about your oral health? As part of National Diabetes Month, we are here to discuss how diabetes affects your oral health and the steps you can take to keep your smile functioning and feeling its best.
Diabetes and Gum Disease
Gum disease is an infection of the gum tissue. Left unmanaged, it can lead to tooth loss, chronic bad breath, and an increased risk of several systemic conditions. Unfortunately, diabetics are more likely than the general population to develop gum disease. This may be because:
Elevated blood sugar levels increase the amount of sugar in saliva. That extra sugar can contribute to plaque formation on the teeth and along the gum line. When that bacteria-filled plaque sneaks beneath the gum line, gum disease can result.
Diabetes can affect the immune system and compromise your body's ability to fight off infections.
Diabetes can lead to a dry mouth. Without enough saliva to rinse away harmful plaque and bacteria, dental decay and gum disease are more likely to occur.
Protecting Your Oral Health
While being a diabetic increases your risk of gum disease, that does not mean you are doomed to suffer poor oral health. You may very well be able to maintain a healthy mouth throughout your lifetime if you:
Manage your diabetes. Sticking to good daily habits and working with your doctor to control your blood glucose levels can do much to stop diabetes from adversely affecting your oral health.
Maintain excellent oral hygiene. Twice-daily brushing and daily flossing will fight plaque and bacteria accumulation along your gum line.
Keep a moist mouth. Sipping plenty of water, as well as chewing sugar-free gum, can encourage saliva flow. Some mouth rinses are even specially designed to fight dry mouth.
Keep your dentist in the loop. Let your dentist know about your diabetes so they can give you personalized oral health guidance. Also, be sure they are aware of any medications you are taking.
Visit your dentist regularly. You should visit your dentist at least twice a year for a cleaning and checkup, but if you develop gum disease, you may need to go in more frequently. Don't hesitate to book an appointment if you notice any changes in your mouth.
Diabetes is a serious condition, but you don't have to let it rule your life or your smile. Use the above guidance to protect yourself from gum disease so you can continue to enjoy sound oral health.
About the Author
Dr. James Sierra is the leader of our team at Friendswood Dental Group. He is passionate about continuing his education so he can provide the best possible preventive, restorative, and cosmetic services to his patients. If you are a diabetic, he would be happy to talk to you about how you can protect your smile from gum disease despite your condition. You can contact our office at 281-482-2631.
Comments Off

on The Connection Between Diabetes and Your Oral Health
No Comments
No comments yet.
RSS feed for comments on this post.
Sorry, the comment form is closed at this time.