April 8, 2022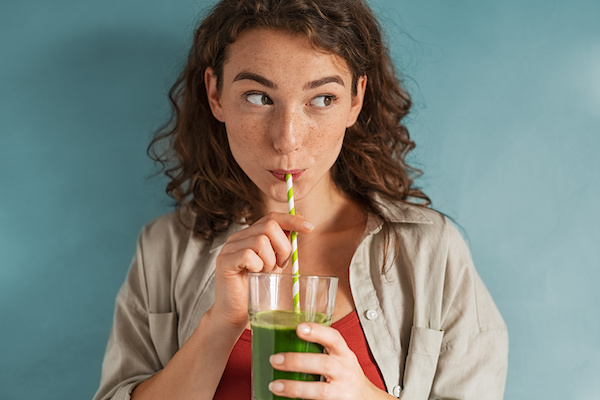 If you need to have several teeth replaced all at once, All-on-4 dental implants are a wonderful option for rebuilding your smile. This method replaces an entire row of missing teeth, and many patients leave their dentist's office with their new, permanent teeth on the same day as the treatment.
As with any procedure, you will want to prepare ahead of time to ensure you have a great recovery. That includes planning what you will eat and drink in the days and weeks ahead. Keep reading for ideas on what to have on hand after your All-on-4 surgery!
1-2 Weeks After: Liquid Diet
Two things are for sure: you will love your new teeth once the All-on-4 procedure is complete, and you will also experience side effects that come along with any oral surgery. That includes swelling, soreness, and minimal bleeding at the procedure site. These symptoms will limit what you feel like eating for a week or two following the surgery. Sticking to a liquid diet is the best method for avoiding discomfort and ensuring that the gums heal properly.
Some foods to have on hand during this time include:
Water, juice, sports drinks
Herbal tea
Strained soup, vegetable purees
Jello
Bone/vegetable broth
Ice cream
Yogurt
Meal replacement shakes, like Ensure or Boost
Milk
And other nutritious, liquid items
2 Weeks-3 Months: Soft Diet
As your mouth begins to heal, you will start to be able to use your new teeth more and more. Still, you should hold off on eating anything hard, crunchy, or chewy until you get the OK from your dentist. While you may not feel much soreness after a few weeks, the implant posts are working on fusing together with the jaw bone for up to three months – a critical process for long-lasting dental implants. Stick to a soft foods diet instead, concentrating on foods like the following:
Soft fruits, like ripe bananas, avocado, and berries
Steamed fruits and vegetables
Oatmeal, couscous, quinoa
Soft breads
Nut butters
Cheese
Eggs
Tofu
Stewed meat
Mashed potatoes
And anything else that you can easily pierce with a fork
Keep in mind this is a small sample of items that you can safely consume during your All-on-4 recovery. In general, most items that you can cook and run through a food processor will be safe to consume during the soft foods phase. You should always talk to your oral surgeon if you have any questions or would like to ask about a specific food item. But, with a little planning, you will breeze through your recovery period and be back to eating all your favorite foods after a few short months!
Meet the Dentist
Dr. James T. Sierra, DDS, F.A.G.D and the team at Friendswood Dental Group offer exceptional dental care in a state-of-the-art office. With excellent restorative options, including All-on-4 dental implants, patients who have experienced dental trauma or tooth loss can enjoy exceptionally beautiful, functional smiles once again. To learn more about this option, contact the practice by phone at (281) 482-2631.
Comments Off

on What to Eat and Drink After All-on-4 Surgery
No Comments
No comments yet.
RSS feed for comments on this post.
Sorry, the comment form is closed at this time.