February 6, 2022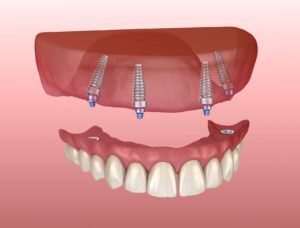 If you're ready to replace your missing teeth with the next best thing to your own, All-On-4 is a great alternative to traditional dentures. 4 implant posts are surgically placed into the jaw to replicate tooth roots, anchoring your denture to your bone. You'll never have to worry about slipping or irritation again; however, you can't bite into a juicy hamburger right away. Here's what you can expect during your All-On-4 recovery.
Everyone's Recovery Timeline Differs
Sedation or anesthesia will be used to keep you comfortable during your surgery for All-On-4 dental implants. It can take a few hours for the effects to dissipate, so you'll need to spend the next 24 hours resting to allow any medications to wear off.
It's normal for your mouth to be sore, but you can manage it using a prescribed or OTC pain reliever recommended by your dentist. Applying a cold compress can reduce any swelling or bruising. It's best to take a day or two off work to allow your body to recover. After 3-4 days, you can expect your discomfort to improve gradually; however, everyone heals at a different rate.
Generally, the gum tissue heals within 2 weeks, but it will take several months for the jawbone to fuse with the implants through a process called osseointegration. Your dentist will provide you with aftercare instructions to avoid unnecessary delays in your recovery.
You'll Have to Alter Your Diet
Pressure from biting and chewing can affect osteointegration. Therefore, your dentist will recommend altering your diet for a few weeks. It's better to stick with liquids for the first day or two, but don't have anything hot to avoid accidental burns. Your dentist will advise you to eat softer foods for a few weeks because they are easier to chew, like mashed potatoes, yogurt, or oatmeal.
Besides a healthy diet, you'll need to stay hydrated, but don't use a straw to drink. Suction can dislodge the blood clots forming at the surgical sites, which can lead to a painful condition.
Keep Your Mouth Clean
Although your mouth will be sore, you need to brush and floss, but be careful when cleaning near the surgical sites. Don't rinse your mouth vigorously for a few days. Instead, gently swish the liquid in your mouth and let it flow out into the sink.
Enjoy a Stress-Free Recovery
Your dentist will also discuss additional steps you can take to ensure nothing compromises your investment. After just a few weeks, you can speak, smile, and chew without a worry in the world while having peace of mind knowing your new teeth can last for decades.
About Dr. James T. Sierra
Dr. Sierra earned his dental degree from The University of Texas Health Science Center at San Antonio. He has completed over 1,200 hours of continuing education in advanced procedures, like dental implants. He is a Fellow of the International Congress of Oral Implantology and a Master of the International Dental Implant Association. Contact our office today to schedule your consultation for All-On-4.
Comments Off

on What to Expect While Recovering from All-On-4
No Comments
No comments yet.
RSS feed for comments on this post.
Sorry, the comment form is closed at this time.