July 22, 2019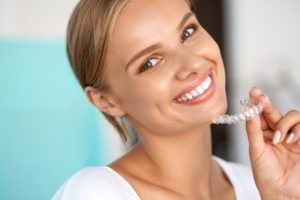 Are crooked teeth getting in the way of your day to day life? You may be familiar with the ways that misalignment can affect your appearance, but did you know that it can also affect your oral health? Crooked teeth make it harder to clean your smile, creating a higher risk of decay and gum disease as well as other dental issues. Thankfully, you can now receive the smile of your dreams without committing to unattractive and uncomfortable traditional braces. Keep reading to see how your dentist uses Invisalign in Friendswood to shift teeth into alignment.
What is Invisalign?
Invisalign treatment involves the use of a series of clear plastic aligning trays that are designed to shift your teeth into a straight position. Each tray will be worn for about two weeks (20 to 22 hours a day), before switching them out for the next trays in the series. After about 10 to 18 months, your treatment will be concluded, and you can enjoy a beautifully straight smile. The only step left to take is to wear a retainer as instructed to ensure that your results are permanent.
Why Should I Choose Invisalign Over Traditional Braces?
Invisalign can offer patients many advantages over traditional orthodontics, which is why millions of Americans have chosen this treatment. These benefits include:
Appearance: Invisalign's primary benefit is that it utilizes clear plastic aligning trays, which are almost invisible. This allows you to smile in your personal and professional lives without being self-conscious about brackets and wires.
Comfort: Made of smooth plastic, the clear aligners are designed so that the inside of your mouth and cheeks won't get cut by any jagged edges like with traditional braces.
Speed: While treatment times may vary, Invisalign is typically a shorter process than traditional braces. Additionally, you will typically spend less time seeing your dentist for adjustments.
Function: Designed to be completely removeable, Invisalign clear braces allow you to eat all of your favorite foods without worrying about food debris damaging or getting stuck in your traditional orthodontics.
Above all else, the main reason patients choose Invisalign is the confidence that it brings them. Now, you don't have to hide your smile during your journey towards alignment. Invisalign allows you to confidently flash your grin for any occasion. Plus, the best part is the only people that will know you're straightening your teeth is you and your cosmetic dentist in Friendswood.
Are you ready to take your first step towards a straight set of teeth? Contact your dentist to get started on discreet, comfortable, and quick treatment with Invisalign clear aligners.
Meet the Dentist
Dr. James T. Sierra loves dentistry because he gets to help patients look and feel better. That's why he takes pride in offering Invisalign clear braces as a way for patients to improve their smile without affecting their self-confidence. He currently practices at Friendswood Dental Group, and he can be reached through his website or by phone at (281) 482-2631 for any questions you may have.
Comments Off

on Why Should I Choose Invisalign in Friendswood Over Braces?
No Comments
No comments yet.
RSS feed for comments on this post.
Sorry, the comment form is closed at this time.